In the first half of 2017, the new products include a mirrorless camera 'EOS M6', DSLR cameras 'EOS 800D' and 'EOS 77D', and a high-end compact camera 'PowerShot G9 X Mark II'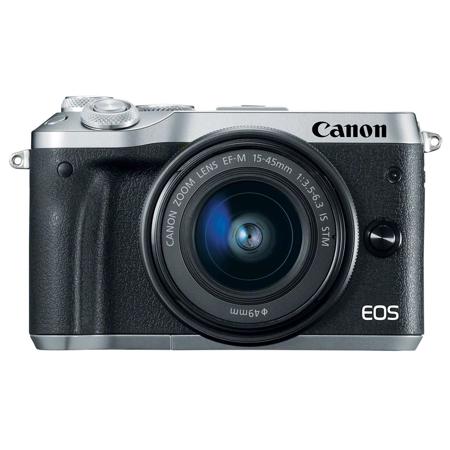 The new Mirrorless EOS M6 is a high performance mirrorless camera featuring the latest image processing engine DIGIC 7 and dual pixel CMOS AF in a compact size. DSLRs The new EOS 800D and EOS 77D deliver the world's fastest AF speed in about 0.03 seconds, and the same all-around 45-point AF system as the mid-range DSLR 'EOS 80D' allows fast and accurate tracking of the subject over a wider area. The PowerShot G9 X Mark II is a small, lightweight, high-end compact camera that weighs about 182 grams.
Dual-pixel CMOS AF, the latest technology in high-performance lineups such as Canon's mid-range DSLR camera 'EOS 80D' and the first high-end mirrorless camera 'EOS M5' To provide high performance for small and lightweight bodies of about 343g.
The EOS M6 is equipped with a 2.4-megapixel APS-C type image sensor, which enables Canon to produce a brilliant color image, and incorporates the latest image processing engine, the Digic 7, for high image processing speed and sensitivity. It can record up to about 7 images per second when AF tracking, up to about 9 images per second when AF is fixed, and up to 25,600 commercial sensitivity, ensuring sufficient shutter speed even in dark environments.
The EOS M6 supports full-fledged shooting using a variety of intuitive dials, including a quick control dial, exposure compensation dial, and a controller wheel. In addition, Canon's EF-M lens, which is a mirrorless lens, and Canon's EF lens for Canon's DSLR cameras, including the L lens, can also be used with the mount adapter. Users who want to take high- It is expected to add pleasure to photography.
The EOS 800D and EOS 77D are equipped with a 2.4-megapixel CMOS sensor and Canon's latest image processing engine, the DIGIC 7, to deliver sharp, high-quality images with fast AF speeds of 0.03 seconds. With the enhanced AF performance, it captures still images even when shooting still images as well as still images. With the same all-around 45-point AF system as its mid-range model EOS 80D, it tracks the subject quickly and accurately in a wider area. It also adopts dual pixel CMOS AF to smoothly capture a moving subject smoothly even in video and live view shooting . The commercial sensitivity also extends to ISO 100-25600, ensuring sufficient shutter speeds for night-time or indoor shooting that lacks light, so you can take pictures without shaking.
The EOS 800D and EOS 77D offer features that allow you to shoot high-quality movies stably. It is the first time to deploy the 'Time Lapse Movie' function and 'HDR Movie Mode' to support full high-definition 60p movie shooting. When using HDR movie mode, even brightness is taken even under high shooting conditions such as sunrise or backlight. It is possible. In addition, 'Image Stabilization' function that prevents even slight camera shake that may occur when handheld shooting is installed, so that it is possible to shoot a movie stably.
The new EF-S 18-55mm f / 4-5.6 IS STM lens in the first half of 2017 is a standard zoom lens with a compact size of about 6.18cm which improves portability. It provides an ideal standard zoom lens angle from 29mm to 88mm in 35mm conversion. Especially, it is possible to take the shortest distance up to 0.25m, so you can shoot big and clear subjects at close range. The improved 4-stop camera shake compensation makes it easy to secure the shutter speed even when the light is insufficient.
The PowerShot G9 X Mark II is the smallest and lightest camera in Korea with a slim width of about 3.13cm and a light weight of about 182g.
The PowerShot G9 X Mark II is a high-end compact camera equipped with a 2.0-megapixel 1.0-inch image sensor, equipped with Canon's latest image processing engine 'DIGIC 7' . Especially, in addition to the gyro sensor, the image sensor supports 'Image Stabilization' (IS), which recognizes the image shake once more, so that it can effectively compensate not only the shaking of the fine camera body but also the big motion of the photographer